So I'm trying to keep news updates to news worthy things, and not jsut spam updates for the sake of it.
Somehow killing Trak for the first time (and with 50 people in raid no less!) I deem sufficiently worthy to post a news udpate.
Err but not to take a screenshot.....So I drew one instead, here's a graphical representation of what happened as far as I'm concerned!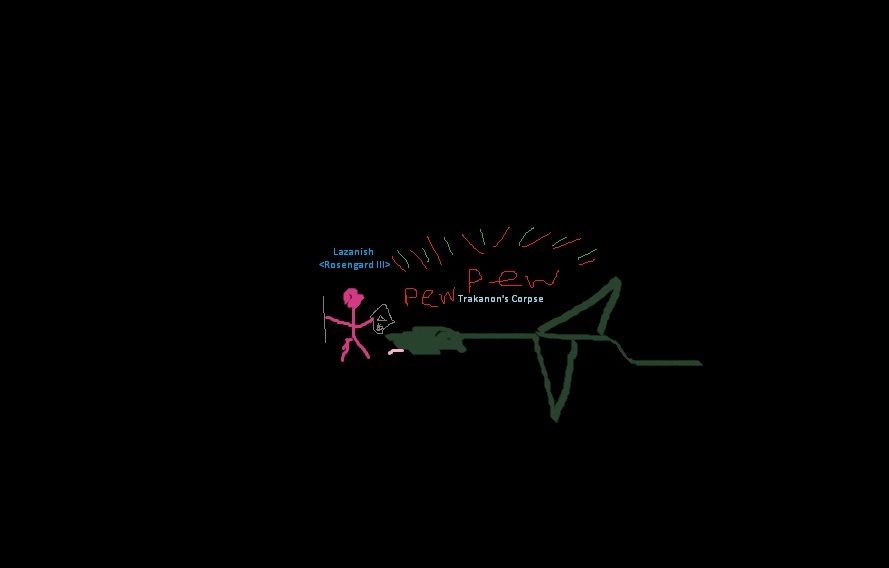 So Trak has fallen, giving us our first breastplate, grats Khix on your Myrolkar's and its crappy click effect!
Meanwhile we have several new friends in the green text, but of course we are always looking for more, old or new friend or former foe your presence is welcomed, apply within! 
And so we come to everyones favourite part of a news update, or the part that makes you cringe because you possibly said something you might regret and hope I wasn't online to see it :P
Q U O T E S !
So the powers that be wish for a news update to test images and the like, while silmultaneously keeping people abreast of the goings on in Rosengard.
So, first off! Ding 100 people in the guild list, and seeing as this is a no box server the vast majority are main people, and what delightful folk they are!
It really is warming the cockles to see so many familiar friends along with many many new ones.
But what have we been up to? Well we 'warmed up' (see what I did there?) with the fire dragon naggy instance and of course like a well oiled bike thats been in the shed a while.....
Followed by a Vox kill, so we were eager for blood, and soon thereafter open world Inny, Severilous and Faydedar fel with around 30 people, and possibly the 'Raid most in need of the benny hill chase music' award going to us for the Faydedar raid (he was chased on to the next island, across the water...I swear I laughed so hard I popped the other testicle)
In fact I had so much fun I forgot to do a screenshot.
BUT! I did make some new quotes, and since we're less than a week old there aren't so many.
Some things never change eh Scrubbles?
-Laz